Yesterday night I spent my night with
Sassisam
and a room full of lucky people anticipating the show of
Bowie A/W 2010.
The night began in the entry of the
White Rabbit Gallery
in Chippendale, a cute and edgy little place - perfect pick for Bowie's direction and persona. We were served Manhattan Martinis and bite-sized and were told more about the collection and about the other people in the room. Sam is an amazing woman with what seems like a million tricks up her sleeve and friends and contacts everywhere. I feel very
privilaged
to have been invited to the show by her and for having the opportunity to meet and spent some time with her. Truly one of
Australia's most dedicated and engaging bloggers
. Thank you Sam!
In the crowd I saw faced like
Renee Bargh
and
Billy Russell
[Channel V] as well as jaw dropping
Nikki Phillips
and the gorgeous
Maude Garrett
. Renee was wearing a
ring form YSL
that I have been eyeing for over a year, seeing it on her made my mind spin. It's just an amazing piece of jewellery which is more like a
piece of art
. In the model line up I noticed Australia's Top Model contestant
Kristy Coulcher
whom I've worked with for a few weeks here at SUPRÉ. She looked
amazing
, as always. Next to me I later figured out that I had
Nadhal
from
cocolee.com.au
- hehe I almost choked as I love her work and read her blog daily. What a lovely girl!
Thanks to Sam, we had
front row seats
. The show was
breath taking
and as every piece came out one after another I just found myself saying - I
love
that one. And
that
one. And look at
that
one. A harmanious combination of layers, embelishment, accented shoulders and beautiful fabrics, the dresses in particular left me speechless. As soon as the cashemere came on show I just nodded in awe as Nadhal whipsers
"Don't you just want it ALL!?"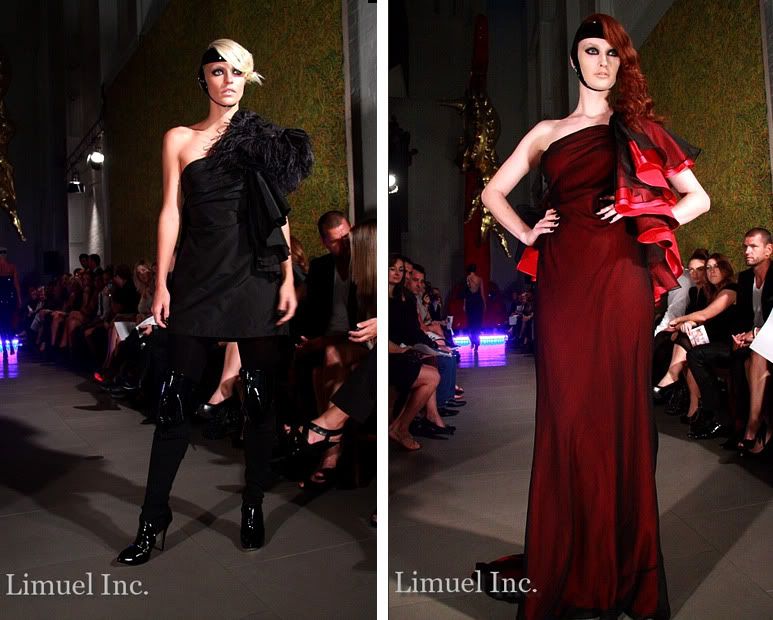 After the show Sam took us backstage to
meet the main man himself
- Bowie. What a guy!
Creative, funny, successful.
This has had to be one of the best nights for me in a long time, something I will
never
forget. So thank you again to Sassisam for making it possible, and to all of you who weren't as lucky as me check out
www.bowie.com.au
for stockists and more info on these
amazing
creations. And most of all,
congratulations to Bowie!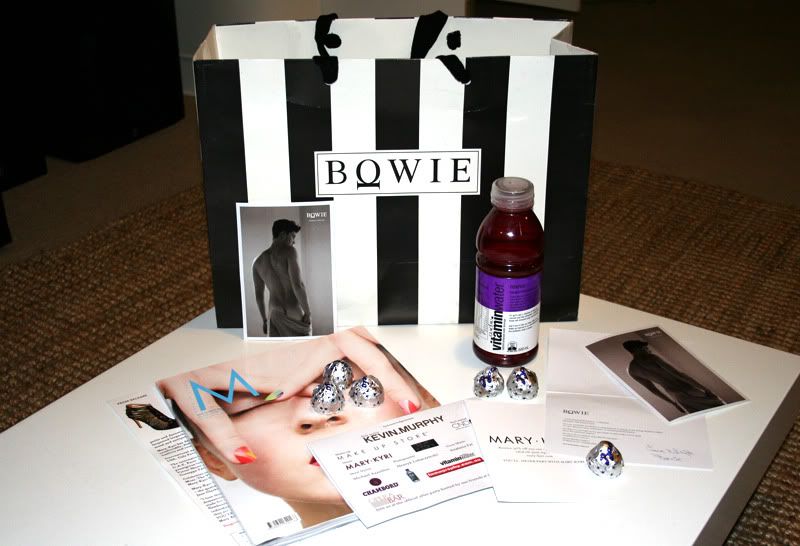 goodie bag fromt the night, with an invitation signed by Bowie
note:

more pics are coming, as to my camera dying I am just waiting for a few emails...


source

from photos here