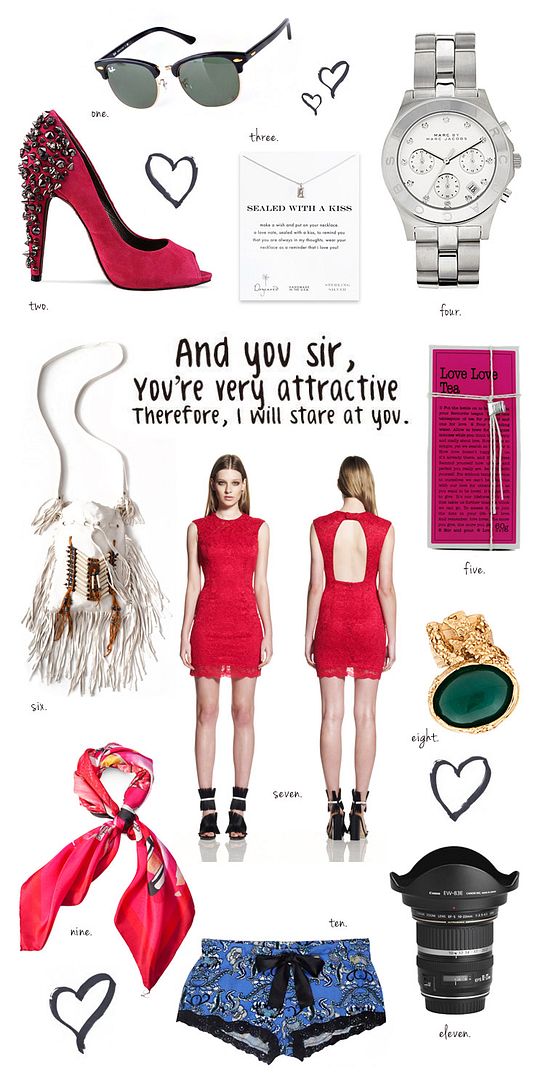 one. Ray-Ban 'Clubmasters' via Sunglass Hut - two. 'Lorissa' by Sam Edelman via Solestruck - three. 'Sealed with a Kiss' via Coco Ribbon - four. marc by marc jacobs via marcjacobs..com - five. 'Love Love' Tea via Coco Ribbon - six. Bone & Tassel Bag via SPELL - seven. Bec & Bridge Open Back Lace Dress via becandbridge.com.au - eight. YSL Oval Arty Ring via Saks Fifth Avenue - nine. 'Tokyo' Scarf via L'avion - ten. PJ shorts via Deshabille - eleven. 10-22 Cannon Lens via Camera Warehouse

A few little dreams of Valentines Day.

I used to get all worked up over this day - but I've realised that you don't need a special holiday to celebrate with the person you love. But what a great excuse for a little gift-giving.